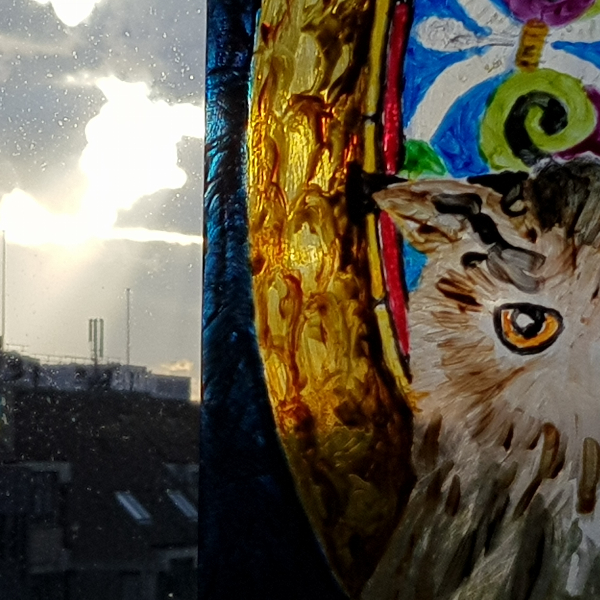 In the catalog I made for the first exhibition of my oil paintings, I wrote that the first painting I made this century was a quick 'Van Gogh self-portrait' (see below) in gouache.
It wasn't until after that exhibition that I realized that wasn't quite right. I made the painting 'Monerva' of which you see a detail above before. I made it with 'transparent glass' paint on plexiglass (the complete thing, 100 x 70 cm, can also be seen below). The reason I did mention Minerva nor Mona Lisa in the catalog was that I started producing these paintings (I made two more) as an extra means of blocking the sun, something that is really necessary in my apartment…
My choice to portray Minerva had a political background.
A few years earlier I made the rather remarkable discovery in Malta that in the so-called co-cathedral in the capital Valletta that pre-Christian goddess Mineerva -also known as Athena- is depicted in a large painting above the original main entrance of that Catholic church!
By the way, I don't blame you if you don't immediately believe that last sentence above is actually true …
I do assure you however: it is true.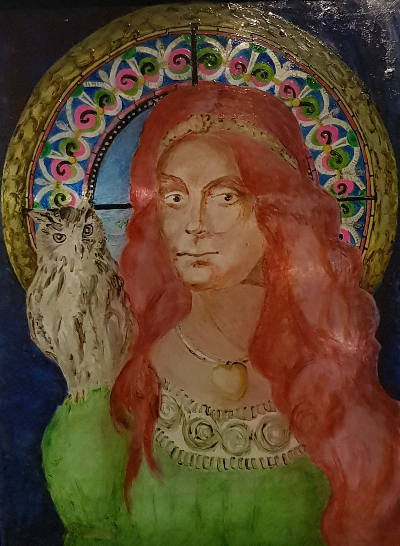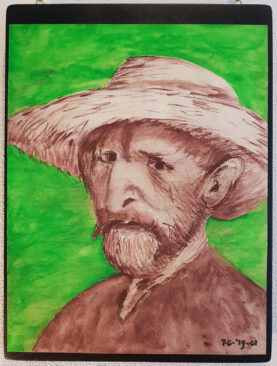 P.S.: Only recently I discovered that painting on (plexi)glass is considered by many as extra challenging.
P.P.S.: See also the category 'My painting(s)' below this blogpost or in the footer on every page of OldDutchPainter.works.